Grieg Maritime signs for up to four ammonia-ready open hatch newbuilds
Norway's Grieg Maritime Group has contracted CSSC-affiliated Huangpu Wenchong Longxue yard for up to four ammonia-ready 82,300 dwt open hatch vessels.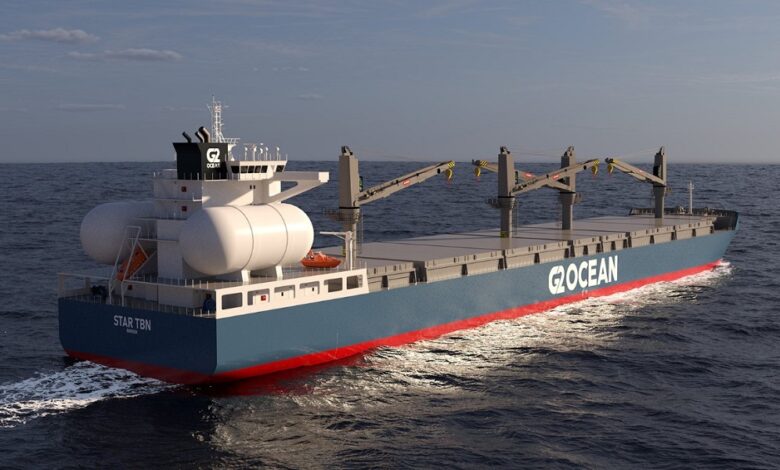 No price has been revealed for the order, which includes two firm vessels with an option for a further pair. The first of the four vessels will deliver in the spring of 2026, with the following three throughout the year. All ships will be Norwegian-flagged, DVN-classed and meet the EEDI Phase 3 requirements.
Grieg Maritime Group said the 225 m long newbuilds will dwarf the 50,800 dwt L-class, previously the latest and largest vessels in its fleet. The units will be equipped with MAN B&W 5S60ME engine and prepared for tanks holding 3,000 m3 of ammonia on deck.
"This class of vessels shows we are serious about climate action and plan to stay a leading player in the open hatch segment. We are delighted with the design and specifications of these ships," said Matt Duke, chief executive of Grieg Maritime Group.
Internally dubbed "PulpMax", the ship's design has been developed with input from Grieg Shipbrokers and G2 Ocean, a joint venture between Gearbulk and Grieg Star.
Grieg Maritime Group is committed to the Norwegian Shipowner's Association's climate targets, which include new ship orders only with zero-emission technology from 2030.
"These vessels are halfway there, as they give us the flexibility to be close to emission-free as soon as the fuels are available. The design doesn't tie us to just one fuel but lets us keep our options. We believe in ammonia for these ships. However, we can also look to methanol or carbon capture depending on how the technology develops," added Nicolai Grieg, head of shipowning at Grieg Maritime Group.